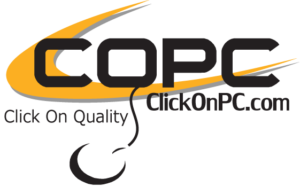 Since time is precious and schedules are demanding, many individuals and small businesses are often confronted with the difficult choice between paying outrageous labor fees for professional repairs and being overwhelmed with the aggravation of maintaining their own computers.
We at ClickOnPC.com take pride in our work and strive to meet and then exceed the expectations of our customers. We offer both affordable and convenient solutions to your computer problems. Our dedicated professionals understand your frustrations and are committed to facilitate to all of your needs. Computers can be complicated, but here at ClickOnPC.com we make the affairs of computers simpler so you can concentrate on utilizing your time for your business.
ClickOnPC is here to bring you the best service at an affordable price. Since 2001, we have been helping our clients with Web Design, PC repairs and custom PC builds. Our goal is to create a pain and trouble free environment for you and your computer.