WEBDESIGN
Whether you are looking to create a new site or update your current site, we can work with you to find what best suits your needs. Websites can be tedious as stressful, let us take some of that load and make your web presence easier. We can try to help save you money and time during the hole process and into the future.
COMPUTER REPAIR
Computers like any device could use a tune up or replacement. We will assist you to bring something old back to life or something new that fits your usage requirements. Whether you've got a bug or your hardware is just old we can help you find the best solution without breaking the bank.
NETWORKING
Today our lives are filled with all of these devices. We can assist you on networking all of your devices, which will allow you to share files and be more productive. Networking can simplify and bring everything together, so you can enjoy technology.
GRAPHICS
Looking for someone to design graphics for flyers, t-shirts, business cards and more? We can create that killer art to help you gain the attention you need.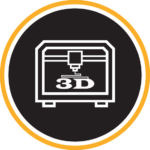 3D DESIGN & PRINTING
Looking for someone to design a item, we can work with you to design parts, promo items, etc... We can print onsite or work with offsite large format printing services.
One of our customers:
Responsive, patient, willing to learn new undiscovered technology, flexible and always there. With our supervision and help we helped bring the web site to commercial quality.

Michel - San Jose